Be prepared with the PADI Rescue Diver Course. The words that best describe the PADI Rescue Diver course are "challenge and gratification". Based on what you already know, this course extends your skills on how to prevent problems and, if necessary, how to manage them.
The fun part
The fun aspect of this challenging course lies in the fact that it prepares you for the unexpected. Most divers have found this course "challenging but rewarding" and at the end say it is the best course they've ever attended.
Get credit
You may be eligible for school credit for the PADI Rescue Diver course.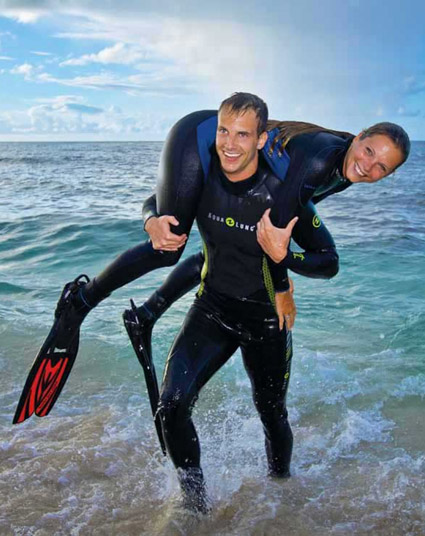 What You Learn
Self rescue
Recognizing and managing stress in other divers
Emergency management and equipment
Rescuing panicked divers
Rescuing unresponsive divers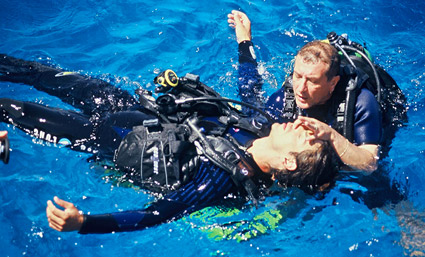 The scuba diving equipment you use
Use all your basic scuba equipment, including dive computer and accessories.
Find out what equipment your local dive shop hires and what is already included in the course package. You'll find almost everything at a dive centre/shop.
Study materials you'll need
PADI Rescue Diver Crew Pak. The PADI Rescue Diver crewpak includes all the materials required to complete the PADI Rescue Diver course – including a pocket mask. You'll learn to think like a rescue diver and you'll see your skills put into practice with your PADI Instructor. Once you've completed your Rescue Diver course, you can use the DVD to review your rescue skills as often as you want. This "toolbox" of knowledge and skills will equip you to handle practically all emergency situations. To purchase these products, contact your local PADI Instructor, dive shop or resort.
Prerequisites
To enrol on the PADI Rescue Diver course, you must:
The PADI Rescue Diver Course gives you the confidence to know what you need to do in an emergency
Be at least 12 years old
Have PADI Adventure Diver certification (or equivalent certification issued by another training organisation).
Have valid first aid and CPR training certification, issued within the previous two years (Ask your Instructor about Emergency First Response CPR and first aid courses).
Your next adventure
After completing the CPR and first aid and PADI Rescue Diver courses, you might want to enrol on the PADI Emergency Oxygen Provider course. Together, these three courses significantly improve your ability to manage dive emergencies.
Course Info
Would you like more information?
Write to us and we will reply as soon as possible…
Write