Exploration, Excitement, Experience:
this is the PADI Advanced Open Water Diver course! You don't have to be "advanced" to take it – it's designed so you can start right after gaining your PADI Open Water Diver certification.
The Advanced Open Water Diver course helps increase your confidence and improve your diving skills to make you feel much more at ease in the water.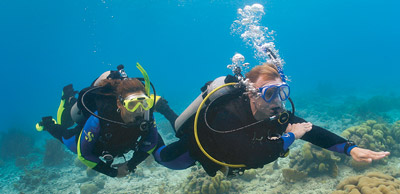 It's an excellent way to do more dives as you continue to learn under the supervision of your PADI Instructor.
Get PADI Advanced Open Water Diver school credits
You may be eligible for school credits for the PADI Advanced Open Water Diver course.
This course is based on what you have already learned and develops new skills, introducing you to new activities and new ways to have fun underwater. You will refine your skills by completing five Adventure Dives that introduce you to:
Underwater Navigation
Deep Dive (usually between 18 and 30 meters)
A taste of three or more Adventure Dives of your choice
The fun part
One of the reasons why you'll love the Advanced Open Water Diver course is that you and your Instructor choose, from a list of 15, the Adventure Dives needed to complete the course. You could try underwater digital photography, wreck diving, night diving, underwater scooter and much more.
Get credit: Each Adventure Dive may credit toward the first dive of the corresponding PADI Specialty Diver Course.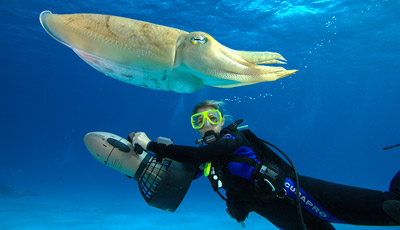 Take your next step with the PADI Advanced Open Water course. The Advanced Open Water Diver Online Course
The Advanced Open Water Diver Online course will allow you to start straight away with the basic information you need for seven of the most popular Adventure Dives (but you and your Instructor can choose any Adventure Dive).
What You Learn
The knowledge and skills you acquire with the Advanced Open Water Diver course vary according to your interests and the adventures you choose, but include:
the practical aspects of deep diving
the physiological effects of deep diving
other ways to use your diving compass
how to navigate using kick-cycles, visual landmarks and time
making better use of your diving computer and Recreational Dive Planner TM (ePIRTM)
And much, much more, depending on the Adventure Dives you choose.
The scuba diving equipment you use
All your basic scuba equipment, including your diving compass. Depending on the three chosen Adventure Dives, you could also try using underwater photographic equipment, DPV (underwater scooter), dive torch, dry suit, lift bag, underwater float/flag or other special equipment.
Find out at your local dive shop which equipment you need to hire and which is already included in the course package. You'll find almost everything at a dive centre/shop.
Study materials you'll need
The PADI Advanced Open Water Diver Crew Pak, the Adventures in Diving Manual and the PADI DVD provide information on more than 16 types of dives. Use them as a guide to improve your diving skills and prepare for new experiences and adventures.
Are you interested in night diving? Go to the specific chapter. Once your Instructor has seen your skills, he/she will guide you on your first deep diving adventure. Do you have problems with underwater navigation? Review the dedicated section and sign up for the Underwater Navigation Adventure with your PADI Instructor.
To purchase these products, contact your local PADI Instructor, dive shop or resort.
Prerequisites
To attend this course, you must:
be a PADI Open Water Diver (or have an equivalent certification issued by another training organization)
be at least 15 years old (12 for the Junior Advanced Open Water Diver course)
Your next adventure
After having tried one in the Advanced Open Water Diver course, you'll probably want to complete the whole course and learn more about specialties
Course Info
Would you like more information?
Write to us and we will reply as soon as possible…